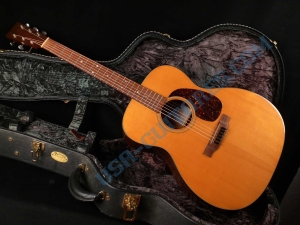 MARTIN Steve Earle M-21 Custom de 2008 : VENDU
NOUVEAUTE
Pour ceux aui ne le connaissent pas, Steve Earle est un guitariste auteur compositeur de country-rock américain relativement peu connu en France il est vrai mais très apprécié aux States où il a enregistré une vingtaine d'albums. Ce modèle signature à son nom est une guitare de forme "M" ou "0000"c'est-à dire pour faire simple avec une table de "Jumbo" et une épaisseur d'OM. C'est une série limitée numérotée, les essences utilisées sont l'Italian Alpine Spruce pour la table et l'East Indian Rosewood pour la caisse, et surtout elle a le barrage avancé et scallopé de l'époque "pre-war", du sérieux donc...
Je vous fais un copier/coller de la fiche technique complète qui n'est pas si facile à trouver :
MODEL: M-21 Steve Earle Custom Signature Edition - CONSTRUCTION: Standard Series, Gloss Lacquer - BODY SIZE: M (0000), 14-fret - TOP: Italian Alpine Spruce - ROSETTE: Style 18 - TOP BRACES: 5/16" Width, Forward Shifted, Scalloped - BACK: East Indian Rosewood, 2 Piece - BACK PURFLING: Style 28 Checkered Backstrip - CAUTION STAMP: None, "C. F. Martin & Co., Nazareth, PA" StampingBetween 1st & 2nd Back Braces - BLOCK TO READ: (Laser Etched Martin Logo)M-21Steve EarleSerial Number - SIDES: East Indian Rosewood - RIBBON: Spanish Cedar - END PIECE: Tortoise Color - END PIECE INLAY: None - BINDING: Tortoise Color - TOP INLAY: Style 21 - BACK INLAY: .0325" Black White Style 21 - NECK: Genuine Mahogany, With Headstock Wings - NECK SHAPE: Low Profile, Without Diamond Volute - TRUSS ROD: Adjustable (Two-Way) - HEADSTOCK: Solid Square Tapered With Old Style Decal Logo - HEADPLATE: East Indian Rosewood - HEELCAP: East Indian RosewoodNUT: Genuine Bone - FINGERBOARD: East Indian Rosewood - SCALE LENGTH: 25.4" Long Scale - # OF FRETS CLEAR: 14 - # OF FRETS TOTAL: 20 - FINGERBOARD WIDTH AT NUT: 1 11/16" - FINGERBOARD WIDTH AT 12th FRET: 2 1/8" - FINGERBOARD POSITION INLAYS: Style 21 Mother Of Pearl Dots9/32" at 5th Fret1/4" (2) at 7th and (1) at 9th3/16" (2) at 12th, (1) at 15th, (1) at 17th - SIDE POSITION DOTS: White, 3rd, 5th, 7th, 9th, double at 12th, 15th, 17th. - FINISH BODY: Polished Gloss Lacquer - FINISH TOP: Polished Gloss Lacquer, Aging Toner - FINISH NECK: Satin, Gloss Headplate - BRIDGE: East Indian Rosewood - BRIDGE: Belly, 2 1/8" Spacing - SADDLE: Genuine Bone, Not Compensated - Not Long Saddle - ACTION: Low, 2 & 3 - TUNING MACHINES: Waverly Nickel With Butterbean Buttons - STRINGS: SP 4100 Light Gauge Phosphor Bronze - BRIDGE & END PINS: Style 21 Black With White Dot - PICKGUARD: Delmar Nitrate, Polished & Beveled - CASE: Blue Molded ABS Hardshell Case - INTERIOR LABEL(S): Personally Signed By Steve Earle, Matt Umanov, Numbered In Sequence Without Total - ELECTRONICS: Optional - NO CHARGE OPTIONS: Lefthanded At No Additional Charge - CHARGED OPTIONS: Choice of Electronics Installation or Sunburst Finish
Superbe guitare dans son étui d'origine que je vous invite à venir essayer rapidement avant qu'elle ne soit vendue !